What do Our Volunteers Do?
Frequently, people offer to volunteer with our group. The reality is, we have more willing volunteers than we have sections of beach. First time volunteers usually start out as substitutes for the first couple of years.
So, what do our volunteers do? Normally, in April of each year, we hold our organizational meeting. At that time, volunteers may have an opportunity to select a section of beach that is approximately 1 mile in length, and a day of the week, and commit to walking that section, on that day, at daybreak (civil twilight). During turtle season (May 1 - August 31), our volunteers are usually the first ones on the beach each morning. We cover the island from the south boundary of Ft. Clinch State Park to the north boundary of Amelia Island State Park on the south end. The entire length is approximately 9 miles. If you are not and early riser, this is not the job for you. Daybreak is the best time to see turtle crawls clearly. Throughout the summer months, regular volunteers may go on vacation. In that event, we need subs to fill in. Some people prefer to substitute, as they are able to see different sections of the beach on different days.
Our organizational meeting is held in mid April. The location and date will be listed on the News page. First time volunteers are required to attend the organizational meeting and a training walk conducted by some of our permitted volunteers.
For the 2021 season, we have determined we have all the volunteers we need for the season.
For more information on what to look for, see our short volunteer training presentation.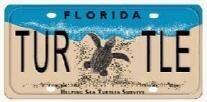 How Can I Help?
If you are getting a new license plate, select the attractive sea turtle plate featuring a loggerhead hatchling crawling towards the surf. If it is time to renew, make the switch to a sea turtle plate for your vehicle. The sea turtle license plate is available in Florida through your local tax collectors office or county tag agency.
The sea turtle license plate was first offered for sale in February of 1998 and quickly became one of the most popular specialty plates in Florida. The sea turtle plate is also one of the least expensive specialty plates in Florida.
Proceeds generated by sales of the turtle plate go to the Florida Fish and Wildlife Conservation Commission's Marine Turtle Protection Program to support research and management activities related to Florida's sea turtles. In addition, a portion of the revene is distributed through the competitive Sea Turtle Grant Program to support turtle projects in the areas of research, education, and conservation.
The Amelia Island Sea Turtle Watch, Inc. directly benefits from the purchase of the sea turtle license plate.